Regular price
$47.00 USD
Sale price
$29.99 USD
Unit price
per
Sale
Sold out
Boost financial literacy in your class! A range of activities to suit all learning styles in NZ maths classrooms
Aimed at NZ curriculum Levels 1-3, years 1-6
These sheets are also available as individual files

 
- NZ Money fraction bars
-
How much is my name worth/How much is the place name worth?
7 pages
-Circle the money to make the amount 2 pages
-Money change word problems 3 pages
-Put coins in to make the amount 5 pages
-Fill in the gaps
-Worksheets on combinations of money (place value) 2 pages
- Round to the nearest dollar task cards 12 pages
- Estimation and adding- card sort 6 page
LEVEL 2/3
-24 task cards where students count the money. These task cards are a combination of notes and coins. An answer key is given
-Banking terminology and worksheet 2 pages.
-Worksheets on reading a bank statement including word problems to do with budgeting/financial literacy. 4 pages
LEVEL 3
-Place value 'how many $10 notes would it take to buy this item' - match up activity 6 pages
- Place value + addition 20 task cards 'Mike has 30 ten dollar notes and five fifty cent coins how much does he have?' 8 pages
- 'Shopping list' students use a price list to answer various questions. Questions are written on task cards with answers included. 16 pages.
140 + pages
--
Share
View full details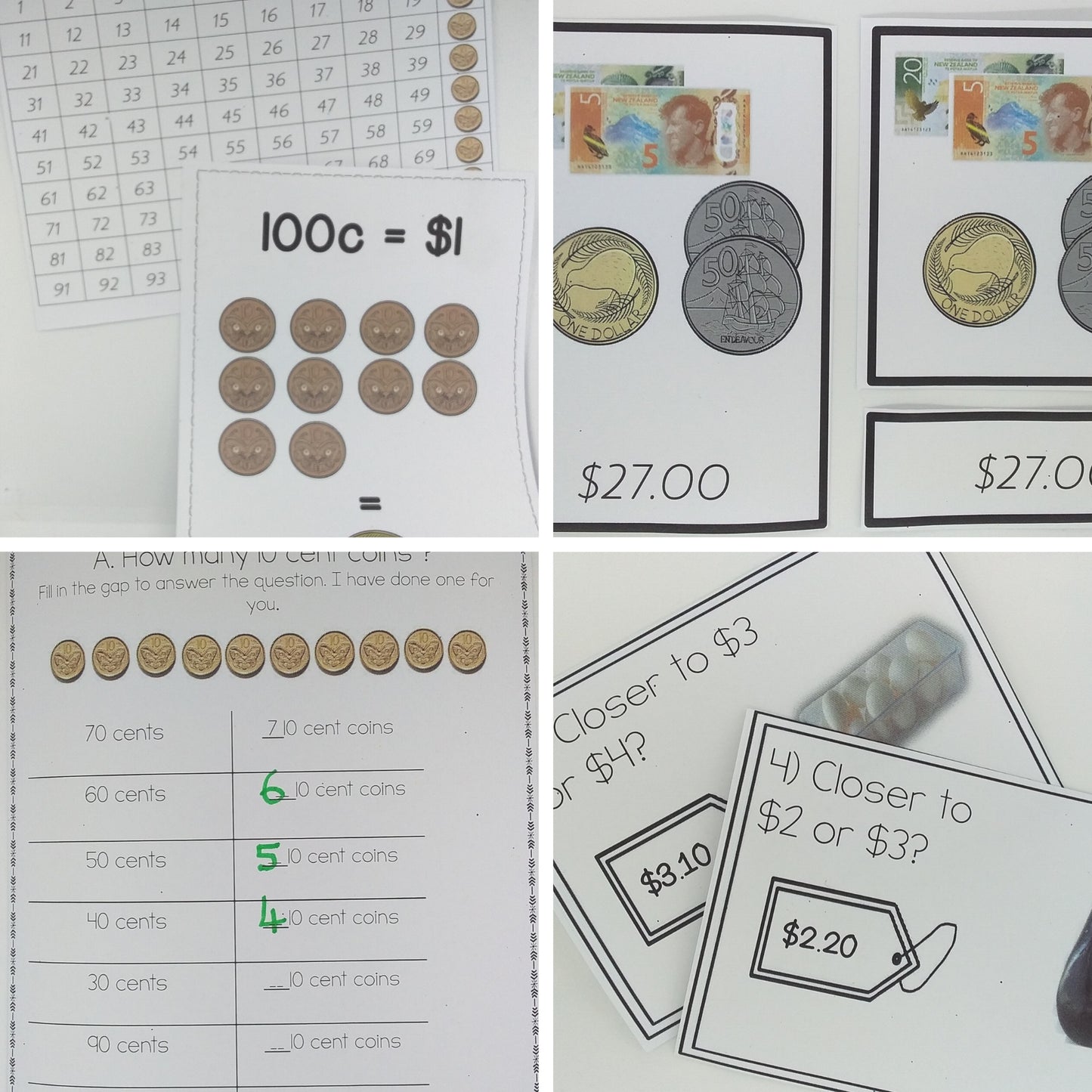 All Items are instant downloads

You will not get a printed product in the mail.

All prices are in USD

Due to the international nature of our customers our prices are all in USD. If you wish to work out the conversion before you buy we recommend www.xe.com