Regular price
Sale price
$2.00 USD
Unit price
per
Sale
Sold out
Montessori Elementary Great Story or Great Lesson Material for the story of writing, the fourth of great lesson.

Included are 12 terms children may hear during the story. As the great stories are so rich sometimes children may not hear all of the key vocabulary we wish them to hear. These cards help children 'tune in' or remember the key language.

Choose the words you need:
language
communication
gesture
cave drawings
civilisations / civilization
papyrus
hieroglyph
cuneiform
alphabet
tyrian purple
invent
knowledge

2 materials are included:

1. Words with a description and picture. Use these while telling the story for children to have a concrete understanding of the terms or they can be used as a glossary and put on your shelf.

2. I have also included the same list of words (no explanations) in a large font. Often when telling the story I put down these concept words before I tell the story on the ground so the children can 'listen out' for them. It is another way of engaging children!
3. A Choice Board to help students learn this vocabulary.
These cards have been designed as an introduction to concepts which makes them ideal for 6-9 classes.
Perfect for distance learning!
9 pages

You can get this resource as part of my Great Stories Vocab bundle or my Great Lessons bundle. Get this resource as part of my Money saving Cosmic Bun
Check out my other great story vocab products below:
Words for the First Great Story
Words for the Second Great Story
Words for the Third Great Story
Words for the Fifth Great Story 
Get this resource as part of my Money saving Cosmic Bundle
Share
View full details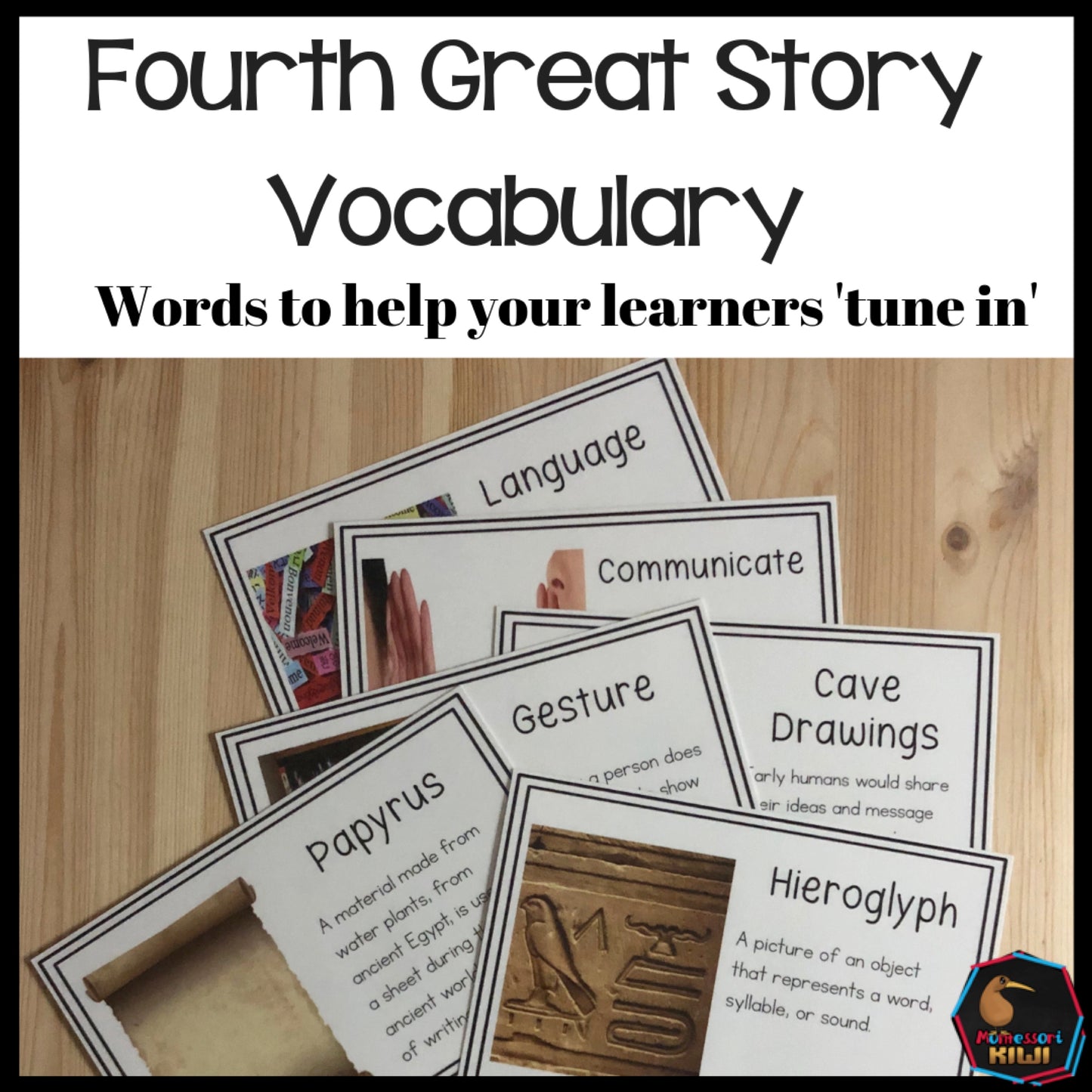 All Items are instant downloads

You will not get a printed product in the mail.

All prices are in USD

Due to the international nature of our customers our prices are all in USD. If you wish to work out the conversion before you buy we recommend www.xe.com