Regular price
Sale price
$14.99 USD
Unit price
per
Sale
Sold out
he cosmic vision of Montessori was for children to have an education that showed them how things interact, the cosmic task of all things in it and to connect the learner to that cosmic task.
In this resource I have taken the traditional functional geography charts and weaved in a variety of curriculum areas such as language, arts ,and social studies. There are a huge variety of activities in here to encourage open ended exploration and to act as jumping off points for students to do their own study.
This is part of the geographic impressionistic chart growing bundle and the Cosmic and Whole Store Bundle
I have tried hard to decolonise the traditional Montessori lessons and acknowledge that I still have work to do in this area.
Includes
- Charts and scripts for
Position of Earth to Sun. There are two hemispheres. Whatever hemisphere is tilted towards the sun gets more sunlight. Areas of Earth that get vertical rays are hotter. The Sun's rays strike the Earth at different angles dependent on the latitude. Certain areas of the Earth receive more heat and energy from the Sun than others.
Distribution of Heat. There are five different climate zones. Some areas get more direct rays than other parts.
Astronomical Seasons. Earth experiences different seasons. One way the seasons can be measured is by the location of an area of Earth as it rotates around the Sun.
Solstice and Equinox. One way of telling the seasons are the solstice and equinox.
Climatic Zones: There are different climatic zones. The climate of each zone affects what lives there.
Activities for follow up to answer these questions:
What is latitude?
What is climate?
How does climate affect living things?
How does climate affect how animals and people meet their needs?
How do climate and land interact?
What is a season?
Is there more than one way of saying what a season is?
How do seasons affect animals and people?
120+ pages of integrated follow up activities for the above including:
Choice Board
Sorting activities
Science experiments and demonstrations
Interactive notebooks
Hands on crafts
Reading comprehension activities
3 part cards
Co-operative revision game
120 pages, PDF Document
This is a digital download only.
Share
View full details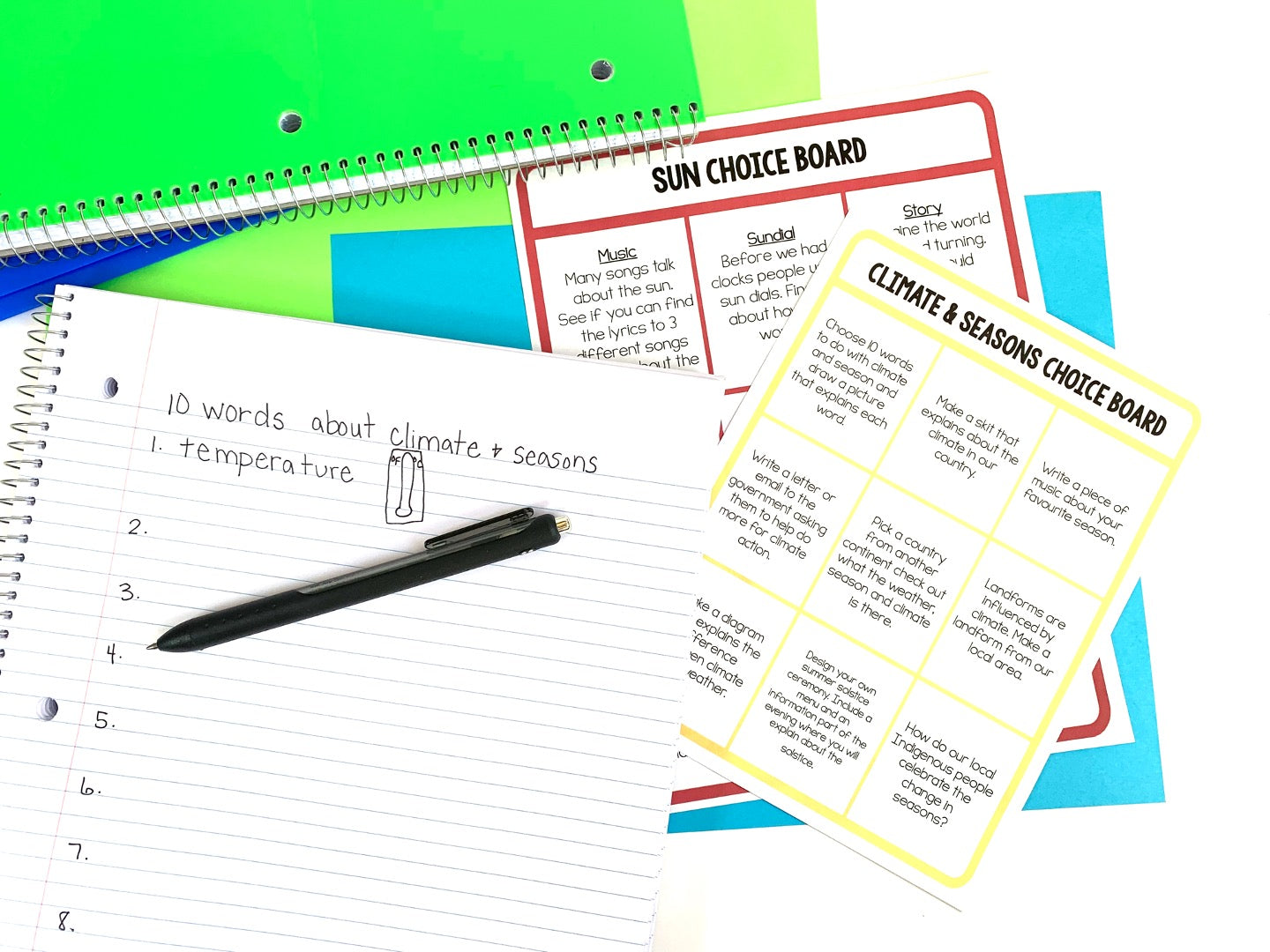 All Items are instant downloads

You will not get a printed product in the mail.

All prices are in USD

Due to the international nature of our customers our prices are all in USD. If you wish to work out the conversion before you buy we recommend www.xe.com